How to Start a Mobile Rock Climbing Business?
How to Start a Mobile Rock Climbing Business?
Rock climbing is a growing niche sport that attracts participants of a surprisingly wide range of ages. Climbing gyms give people who live in pancake-flat areas and people who lack the leisure time.
Mobile Rock Climbing is an exciting adventure activity, where being brave and challenging yourself is the aim of the game.  It allow climbers of all ages make their way to the top of the rock wall.
Mobile Rock Climbing
feature an extreme texture system, which offers the most realistic rock surface on the market – either in a "granite" or "Boulder" theme. With trees, waterfalls, cracks, and overhangs; you are provided with a wide variety of natural climbing routes, just like the real thing!!
Whether you are a die-hard climber looking to turn that passion into a business or a serial entrepreneur who just spotted a perfectly cavernous space for rent, opening a rock climbing gym takes patience, special know-how, and a little bit of daring–just like climbing itself.
Aspects of Mobile Rock Climbing
⦁    For Instruction Purposes: This is a straightforward aspect of the business. Some of the groups you want to target are from corporations, organizations, clubs, and schools who pay a flat hourly, half-day, or full-day fee, as compared to person instruction fee.
⦁    For business promotion purposes: This aspect of the business is more unique. You can contact companies from your local community and offer your service to promote their business for sales events, grand openings, and special occasions. There's an endless promotional possibilities out there you just have to be creative to make one.
Advantages of Mobile Rock Climbing
The advantage of
indoor rock climbing
over outdoor rock climbing lies in the controlled lab-like set up of an indoor rock climbing place. The dangers are lower and an indoor set up can be used by amateurs and learners without fear of falling or getting seriously hurt.
How to Start a Mobile Rock Climbing Business?
The following are the steps to start a successful business:
Step 1
Select the region your climbing gym will serve. Factors to consider include existing climbing gyms (if any), population, demographics and the general culture of the area.
Step 2
Draw up a business plan, both as a tool for showing potential investors and as a way of making sure you have a realistic understanding of what it will cost to start a climbing gym. Expenses to account for include rental or purchase of a space, design and installation of the rock walls, hiring qualified staff, purchasing and installing safety equipment, making sure the building complies with all applicable codes and standards and liability insurance.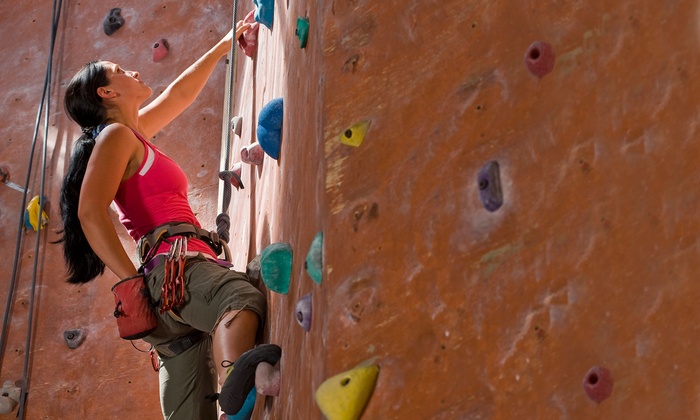 Step 3
Locate a suitable facility for rental or purchase. Most rock-climbing gyms, with the exception of those that are exclusively dedicated to bouldering (climbing low, with padding instead of ropes for protection), have walls at least 30 feet high to simulate climbing outdoor rock formations.
Step 4
Hire specialists to design and install the indoor rock-climbing walls and the rest of the interior space. In addition to climbing walls with ropes and anchors or auto-belay systems, you may want your climbing gym to include a bouldering-only area, a retail store, showers, gear lockers and a party room.
Step 5
Obtain the necessary permits, licenses and passed inspections you need in order to operate your climbing gym. These may include inspections to make sure the gym meets fire safety codes, zoning laws and accessibility requirements, according to the article "They're Climbing the Rocky Road to Success" on the Entrepreneur website.
Step 6
Make a marketing plan for how you will reach the region's existing rock-climbing population and draw newcomers to the sport. Your marketing strategy may include a big opening-day bash, coupons for birthday parties distributed in a local parenting publication and discounted membership packages for local companies and college students.
Step 7
Connect with the established members and leaders of the local climbing and outdoor communities and the people in the neighborhood around the facility to discover their needs, wants, ideas and opinions about gaining a climbing gym. Even if those opinions are mixed or not always helpful, the simple act of communicating with people shows them you respect them and are here to serve the community.
Step 8
Purchase insurance coverage and have a lawyer experienced in commercial liability issues draw up the release forms that all people who come to climb at the gym will sign. In addition to having people sign forms, you should also post signs reminding people that climbing takes place at their own risk and can cause injury or death.
Step 9
Add amenities like yoga classes or traditional workout facilities–such as weight benches and treadmills–if you want your climbing gym to have wider appeal or if community members suggested them during your outreach research.
Step 10
Name and decorate your climbing gym if you haven't already. Most climbing gyms have names that reference their physical location, the nearest mountains or climbing location, or some variation on the word "rock" or "vertical." Schedule your opening-day party.
Things Needed
⦁    Business plan
⦁    Space
⦁    Climbing walls and equipment
⦁    Permits and licenses
⦁    Marketing plan
⦁    Insurance coverage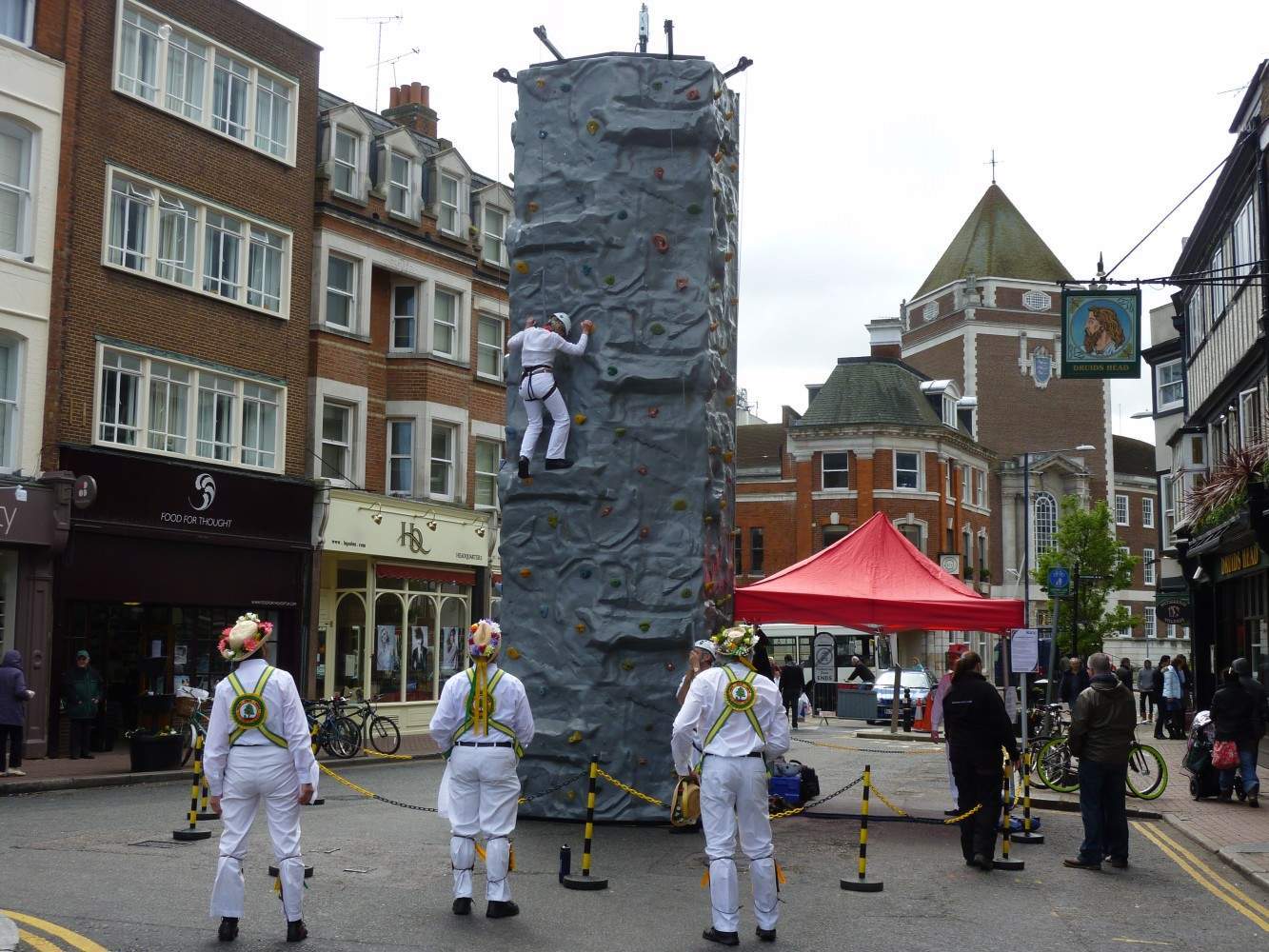 Things to consider as you start a Mobile Rock Climbing Business
1.    Skills required to start an indoor rock climbing business. It is truism that the teacher must be much more adept and skillful as compared to the student. This is true for all expertise based jobs, and hence is true for rock climbers. As a rock climbing trainer, you must know not only the basics but also the finer points and nuances of rock climbing. It is only after you gain mastery over the subject that you can aspire to open a rock climbing business.
2.    Rock climbing business infrastructure. An indoor climbing place needs a proper climbing wall. The wall has to be of a certain height in order to be able to simulate the real thing under controlled environment. You must be careful about various aspects of rock climbing wall, that is, the height, the steepness and angle, the texture and if possible, various levels of difficulty. The quality of infrastructure is a very important ingredient of constructing an indoor rock climbing gym and could very well determine the outcome of the business venture in terms of failure or success.
3.    Indoor Rock climbing equipment. Apart from the basic infrastructure, quality equipment is also of paramount importance. There are various items that need to be in ample supply for rock climbing patrons to learn the ropes and make the transition from amateur to professional, from indoor to outdoor rock climbing. Rock climbing shoes would vary with the kind of texture and material of the wall. Rock climbing ropes and harnesses are also required to ensure the safety of those who would like to practice rock climbing. There is separate equipment for children also.
4.    Marketing. Marketing is essential if you want to get the word out on your business. You could place advertisements in local sports or rock climbing magazines. Online advertisements in local websites could also do the trick. Sometimes, having road shows in schools and clubs could also spread the word.
5.    Liability. Require climbers to sign liability waivers before climbing your rock wall. A liability waiver can help protect you from paying for injuries incurred by climbers and may be required by your liability insurance carrier.
6.    Rental Rates. Remember that all rental rates include instructor and assistant, the labor for setting-up and dismantling, as well as the use of the required climbing and safety equipment.
Tips:
⦁    Offer membership discounts if people sign up with friends. If you make your climbing gym a social hub, more people will hear about it and join.
⦁    Don't skimp on safety equipment or staff training or hiring. Remember that peoples' lives will depend upon the trustworthiness of your gym's equipment, maintenance and design.